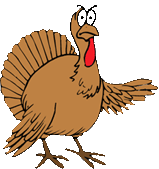 Just before Thanksgiving I overheard the following conversation in the meat department of the supermarket. "Sir, these turkeys seem to be awfully small. I'm looking for a 45 pound turkey." The butcher suppressed his laughter, and replied, "No, we don't have any turkeys that large." "Well, the gentleman said, my wife told me the number of guests we are having and I have calculated that we need a 45 pound turkey. " The butcher suggested that he call his wife and clarify her request. As it turns out she was also preparing a ham and beef tenderloin, so he ended up
purchasing one of the 20 pound turkeys in the meat department.
Are YOU that guy? I encounter many business owners who are looking for a 45 pound turkey. They forecast where they want to be in their business and they are looking for one method of getting there. They are looking for a magic traffic machine, or a blog that skyrockets them to prominence, or a social media campaign that will put them over the top. The truth of the matter is that success in business requires an orchestrated plan using many tools, many methods, and many ideas. There are no 45 pound turkeys.
One other note about this meat market conversation…this man had been to several stores before he got to this one and everyone was content to let him leave believing that this particular store just did not have a turkey this large. The same is true in business. There are many who will willingly participate in your search for the one big answer. Some will even claim to have just what you are looking for. Surround yourself with people who will tell you the truth and stop looking for 45 pound turkeys.
*** Yes, I do know that there is occasionally a very large turkey…but you won't see one in a meat market.